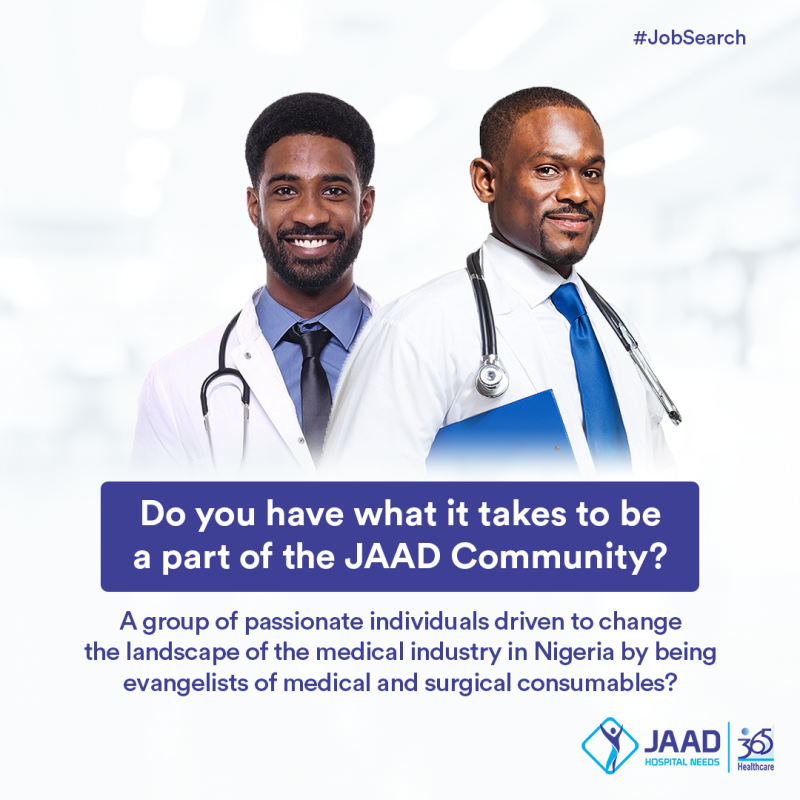 JAAD Hospital Needs Ltd is the sole representative of 365Healthcare UK LTD in West Africa; manufacturers of industry-leading hospital consumables.
As the pioneers of the usage of hospital consumables in Nigeria, our partnership with 365 Healthcare UK Ltd is premised on the drive to greatly improve the delivery of healthcare services while providing cost-effective and long-lasting solutions through the use of industry-leading medical and surgical disposables.
We are building a community of medical evangelists who wish to improve the medical industry by encouraging the use of medical and surgical disposables.
These evangelists who will be our strategic business partners will serve as Sales Representatives for our products that are currently being used by some of the top healthcare facilities in Nigeria like;
National Orthopaedic Hospital, Igbobi
Federal Medical Centre, Ebute- Metta
Federal Medical Centre, Abeokuta
Centre for Advanced Specialist Surgery, VI
George's Memorial Medical Centre, Lekki
The Olive Branch, Lekki
JOB DESCRIPTION OF A SALES REPRESENTATIVE
Generating leads.
Meeting or exceeding sales goals.
Negotiating all contracts with prospective clients.
Coordinating sales efforts with marketing programs.
Understanding and promoting company programs.
Preparing and submitting sales contracts for orders.
Visiting clients and potential clients to evaluate needs or promote products and services.
Maintaining client records.
Answering client questions about credit terms, products, prices and availability.
JOB REQUIREMENTS & SKILLS
Ability to work independently and in a team.
Ability to meet ambitious targets.
Very confident, strong communication skills (Oral and written).
Good Knowledge of Word
Valid Driver's License
QUALIFICATION AND EXPERIENCES
A degree in any relevant field is required.
No previous experience in this field required.
Must not be above 26 years
*Students can also apply
METHOD OF APPLICATION
Interested and qualified applicants should send in their CV's to info@jaad356healthcare.com
The subject of the mail should be "Sales Representative at JAAD HOSPITAL NEEDS Ltd"
Please include a short cover letter detailing: Why you are the best candidate for this position.
Application Deadline: 2 Weeks after publication.